What is Starcade?
Starcade was a competitive Arcade game TV show in the 80's.
That's where Dustin got the name and idea from.
In the show Contestants would go head to head,
playing Arcade games to see who could obtain the highest score.
So our plan is to run simliar events and use many of the arcade games used in the TV show!
Our organized events are fun for young and old!
We love to see what high scores people can obtain.
Our ultimate goal is to have fun with friends and family, play some retro arcade games and pinball!
Our Cabinets
All of our Arcade and Pinball Cabinets are custom designed by Dustin.
However, he is terrible at carpentry, so his good friend Zach has helped out with the wood working side of things.
Nothing has caught on fire... yet! Next planned build is a single player mini Arcade, stay tuned for build updates!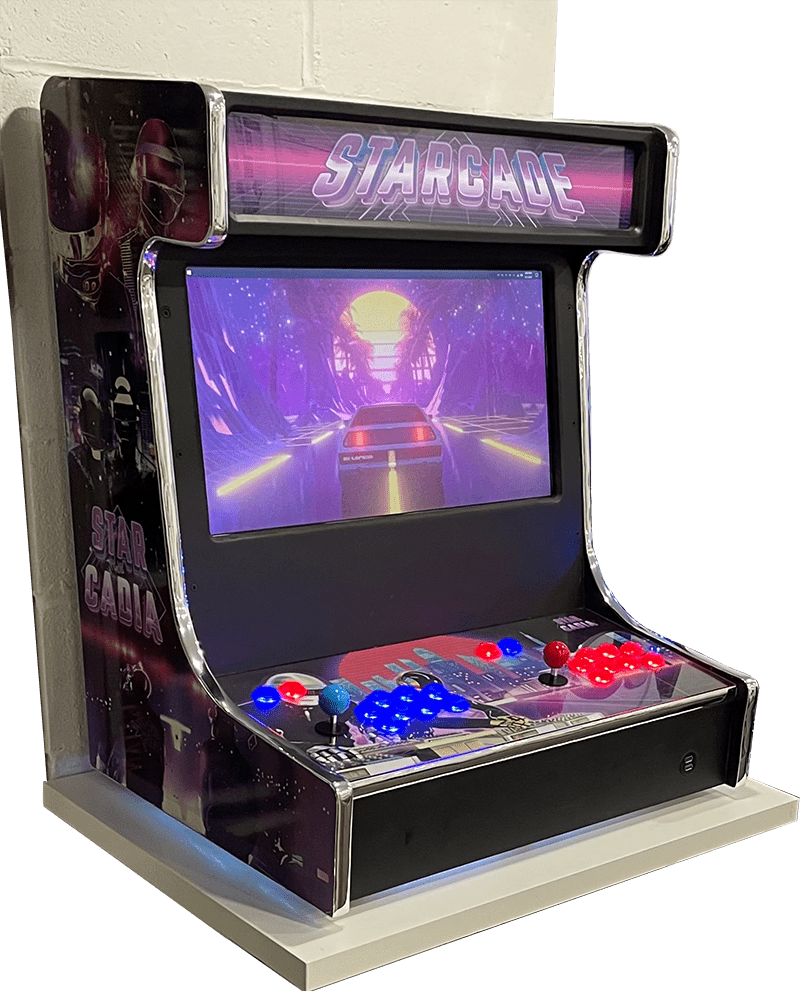 Bartop Arcade
The 2 player Arcade machine is themed after Daft Punk, one of Dustins fav EDM groups who split up in 2021. The Arcade is built from a single sheet of MDF.
24" 1080p @ 60hz
Intel i5 CPU
Nvidia 1030ti Video Card
2 Player 4way/8way Controls
CoinOps Collections

Over 1300 Retro Arcade & Console Games
Virtual Pinball
Ever since he was a much smaller kid Dustin has been in love with Pinball. So when he found out its possible to build a viritual pinball cabinet, he had to try.

This was one of the largest projects he's ever taken on. With over 6 months of blood sweat and tears, its here. Although they say your never truly 'finished' a vpin!


Monitors

32" 4k @ 120hz Playfield
24" 1080p Backglass
22" 1080p FullDMD
15" 1080p Topper

Force Feedback Devices

8 Solenoids
Shaker Motor
Blower Motor
7.1 Surround Sound Feedback

Accelerometer Nudge Sensor
Analog Plunger
Real pinball buttons, Legs, Glass, Rails
Over 300 Virtual Pinball Tables

Visual Pinball X
Future Pinball
Pinball FX3