Nerd. Geek. Gamer
Daax is a big passionate nerd, he views video games as a way to socialize and interact with other people. 
As a result, he has never finished any single player game hes ever started, and really only plays multiplayer games.
Daax livestreams when time permites on Twitch, and creates content on Youtube.
Daax is the founder of Serenity Gaming, an online community with over 100 of his IRL friends.
He also manages the following projects:
Thanks for checking the site out, if you'd like to drop a like, follow, or subscribe It means alot <3
Virtural Pinball Playlist
the technology
Daax's SETUP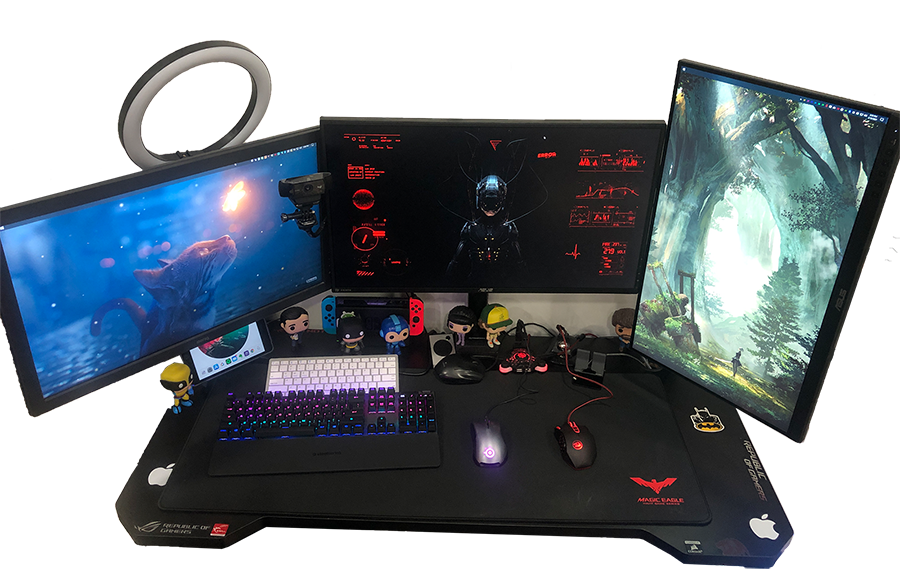 Gaming PC
Lian Li Dynamic-01 |CASE
ASUS ROG Maximus Hero XI |MOBO
Intel i7 8700k |CPU
EVGA RTX 3080 FTW |GPU
HyperX 3200 32GB |RAM
Steel Series Apex Pro |KB
Steel Series Rival 3 |Mouse
Logitech G733 |Headset
ASUS 27" VG27AQ 2k 165Hz |Display
ASUS ProArt PA278QV 27" 2k 75Hz |Display
Server PC
CASE | Thermaltake Core Micro ATX Cube
MOBO | ASRock Z390M Pro4
CPU | Intel i5 9600k
GPU | EVGA RTX 2060 SUPER
RAM | G.Skill 3200 16GB
KB | Razer Blackwidow X Ultimate
Mouse | Logitech G600
headset | HyperX Cloud II
display | Skyworth 4k Android TV
sound | Polk Command Bar
Misc
iPhone 12  |Phone
 Fitbit Ionic  |Watch
 ASUS ROG Strix G15 15.6"  |Laptop
 Secret Labs TITAN  |Chair
Other
Console |  Nintendo Switch
Controller |  Switch Pro Controller
Controller |  Qanba Obsidian
Controller |  8bitDo SN Pro
Capture |  Elgato HD60

the technology
Daax's SETUP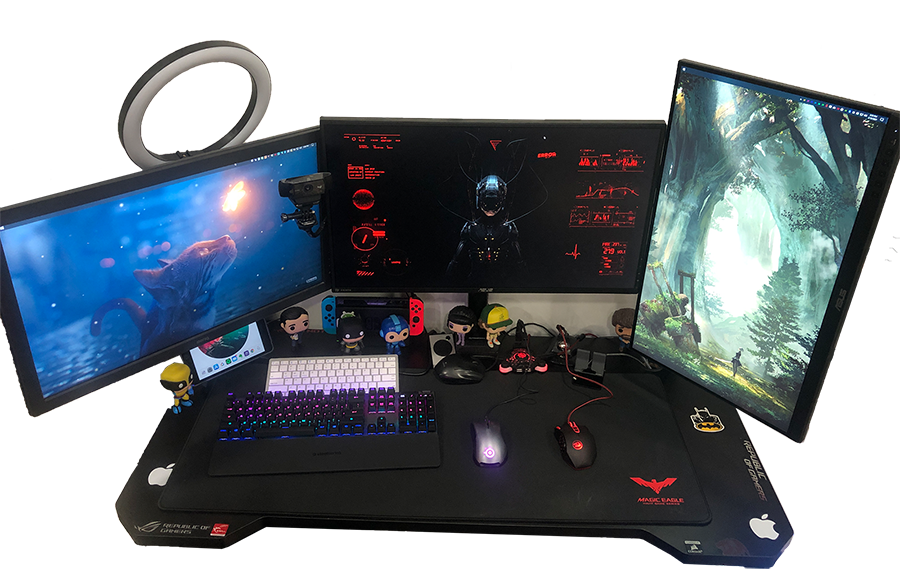 Gaming PC
Lian Li Dynamic-01  |CASE
 ASUS ROG Maximus Hero XI  |MOBO
 Intel i7 8700k  |CPU
 EVGA RTX 3080 FTW  |GPU
 HyperX 3200 32GB  |RAM
 Steel Series Apex Pro  |KB
 Steel Series Rival 3  |Mouse
Logitech G733  |Headset  
ASUS 27" VG27AQ 2k 165Hz  |Display
ASUS ProArt PA278QV 27" 2k 75Hz  |Display

Server PC
CASE |   Thermaltake Core Micro ATX Cube
MOBO |  ASRock Z390M Pro4
CPU |  Intel i5 9600k
GPU |  EVGA RTX 2060 SUPER
RAM |  G.Skill 3200 16GB
KB |  Razer Blackwidow X Ultimate 
Mouse |  Logitech G600
headset |  HyperX Cloud II
display |  Skyworth 4k Android TV
sound |  Polk Command Bar

Misc
iPhone 12  |Phone
 Fitbit Ionic  |Watch
 ASUS ROG Strix G15 15.6"  |Laptop
 Secret Labs TITAN  |Chair
Other
Console |  Nintendo Switch
Controller |  Switch Pro Controller
Controller |  Qanba Obsidian
Controller |  8bitDo SN Pro
Capture |  Elgato HD60